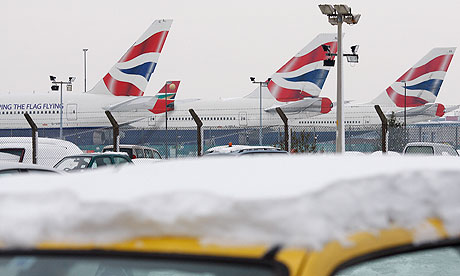 I've spent the last 48 hours on tenterhooks - as have many British ex-pats - wondering if the family are going to make it to Dubai for Christmas. We seem to go through this every year, such is the danger of a) living in a tiny island which gets fog-bound in the middle of summer b) travelling in December when the UK seems to be completely snowed in.
I bluffed my way through numerous emails and calls with my dear mum, but truth be told, I was getting a little concerned. The thought of seeing my 74 year old grandmother on the floor of Gatwick Airport, wrapped in a tinfoil sheet, on the front cover of the Daily Mail, was just too much to contemplate. Stress was at fever pitch even before the bad weather hit, with my grandmother (aka Joan Collins due to her penchant towards fashion and glamour) apparently planning for every eventuality. She had contacted her gay neighbours and told them who to speak to if the plane crashed...I ask you - nothing like positive thinking! So you can see how the weather put the tin lid on the whole situation.
Anyway, I can confirm that the entire family, is as we speak, boarding the plane to Dubai. Just as soon as the Emirates and Gatwick Airport websites are displaying the magic word ('airborne') I shall relax. Well until 2 am when I have to go and meet them at the airport!
I'm not complaining. I know they are some of the lucky few - stories abound of those stranded with no hope of getting anywhere near home or their loved ones for Christmas. Thank you universe! (And Gatwick Airport for being so much more on the ball than Heathrow!)