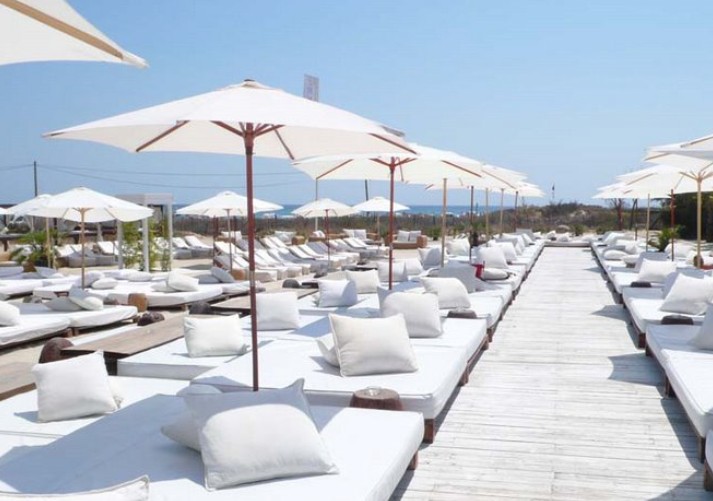 So, you want to spend the day on the beach in Dubai? Pretty easy, you think. Slip on a bikini, grab a few magazines, and plonk yourself down on a beach towel, right? Wrong!!
I've been here for two years: I'm pretty au fait with the way Dubai works – you can keep it low-key if you like, but more often than not, the blingier the better. I've gradually got used to squeezing myself into hot pants for a night clubbing. And on the odd occasion that I make it to a brunch I'll be in an outfit that I'd normally reserve for only a wedding in the UK. Fair enough.
But now this level of commitment on the grooming/outfit front has extended to…the beach. As a beach club regular every Friday I've watched the ensembles ramp up on the glamometer. Here's my handy guide of things to consider before going to the beach in Dubai – well, you wouldn't want to knowingly be under-dressed, would you?
Bikini: The blingier and fancier the better. Think ruffles, think cut-out shapes, think unusual fastenings, think metal pieces. I have approximately 20 bikinis (true story) and they've been becoming more and more elaborate the longer I've been here. Beach Bunny is the current fave brand. Note: remember to phase eating out of life and consider having a couple of ribs removed before trying them on.
Accessories: Earrings, necklaces and bangles are your friend. Yes, they may get covered in seawater, sand and suncream, but you must smile gamely as this happens in the knowledge that you look good. Goes without saying that these should in some way co-ordinate with your outfit. Which brings us onto…
Clothing: It's not just about the bikini, folks. This isn't Europe, you can't just rock up in a sarong and a smile. Ideal beach 'arriving outfits' include strapless/halter-neck maxi dresses, cute as a button playsuits, and the 'never goes out of style' vest and denim hot pants. Be sure to remember a kaftan for the moments when it gets just too hot or for eating lunch. And for sundowners when it starts to get dark.
Headgear: You're no-one without a hat. It's best to go to one of two extremes: small: a straw trilby. Large: enormous floppy Bianca Jagger/J-Lo straw sunhat. Note: a baseball cap will absolutely not cut the mustard.
Other accessories: Sunglasses. Anything goes really but the general rule is: size matters. Either rock out the most enormous pair of plastic frames you can find, or stick to mirrored aviators (Raybans, natch) Note: mirrored aviators are perfect for openly staring at other beach-goers without them being completely sure that you're staring at them in particular. Which brings us onto…
People-watching: If there is anywhere in the world where openly checking out talent is more obvious and accepted, then I have yet to visit it. Naples, Italy, may be a close second. If anyone in Brazil is reading this, I'd love your feedback. The rules are simple: You're amongst the beautiful people. And beautiful people merit watching. Embrace it, learn to love it.
Make-up: What do you mean, you're sweating like a pig and can't possibly have a slick of make up on your face? Toughen up! Ok, we'll let you off a full face of foundation but you must dig out the waterproof eye-liner, mascara, and a bright lippy or gloss. Re-apply regularly to maintain standards at all times.
Games: Bring your own, or borrow them from the beach club. These include cards, backgammon, or our personal favourite: travel scrabble. If you think these are to be taken seriously, you're wrong. The main objective is to allow you to sit up on your sunlounger so as to reach your white wine spritzer more easily, and to have a better vantage point for checking out other talent.
Music: Whether it's the tunes that the dj is spinning, or whatever's rocking out on your ipod, music is a crucial part of the day. It may even lead to dancing come sundown. Do bear in mind that as soon as you don your headphones, you may be missing out on important conversations (from your group or the one next to you that you're ear-wigging on.) Hence you may choose to listen to only one headphone. I'm just sayin….
Gang: You can go on your own of course. But nothing's more fun than a group of your favourite people to share all of the above hoop-la and hilarious moments with. Whether it's exchanging celeb gossip info (have they really split up? What is SHE wearing? CBA with….etc etc) having a dip with a chum, swapping i-pods, or enquiring whether it's wine o'clock yet, it's so much more fun with the full crew.
So that's my most important tip for the beach in Dubai..see you on the sunloungers….