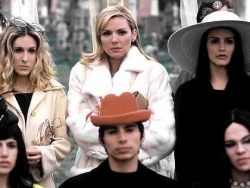 If it all goes wrong, can my funeral be this glamorous?
Ok, I'm a typical woman: I watched Sex and the City throughout my twenties, and really felt like it was hidden cameras recording our lives. From bad dates and bad sex to good friendships and great cities, we regularly identified with the storylines and experiences.
And yesterday one exact story happened to me. Almost. Whilst registering with a new doctor, I filled in the usual Middle East registration form (is it any of your business whether I'm married or not?! Oh, well, if I was pregnant, it would actually). All the usual info required, and then I got to the 'In Case of Emergency' section. I wasn't exactly going in for life-threatening surgery, but they encouraged me to fill it in regardless.
And so there I was, taken back to the SATC episode where Miranda has a panic attack and ends up in hospital. Eventually Carrie comes to rescue her and escort her home, but not before a distraught Miranda tells her that she drew a blank at the next of kin box. As a single woman living away from her family, who should she put down? A girlfriend is an obvious choice, but as she says to Carrie:"You never answer your phone, you always screen."
I paused at the box. If I was married, I guess a husband would be the obvious choice. Instead I went for the girlfriend option. She doesn't usually screen and has been there for the 3 am panic call in the past. She's also a fellow E.R watcher which means she's virtually a medical professional. I'm in safe hands....